FAQ, tips and tricks - Windows XP
CD Recording software for Windows XP®

All Plextor drives are supported in Windows XP® as standard CD-ROM drives, no extra drivers are needed.

Please check with the manufacturer of your software for an updated version that supports Windows XP®.

CD Recording function in Windows XP®


About the function
How to enable this function
What this function does
Which Plextor drive supports this function?
---
About the function:

Windows XP® is the first Operating System with build-in support for CD burning.

When activated, this function will prompt the user to select an action (like select files and record to disc), when a blank disc is detected.

How to enable this function:

- Open 'My Computer' and right-click on the recorder and select properties.
- Choose AutoPlay and from the pull-down menu select Blank CD, the following window should appear: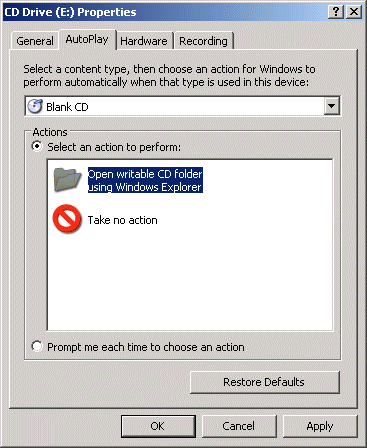 - Choose Recording to change the following settings:

Enable CD recording on this drive.
Select a location to store the image directory.
Select the recording speed.
Activate the automated eject.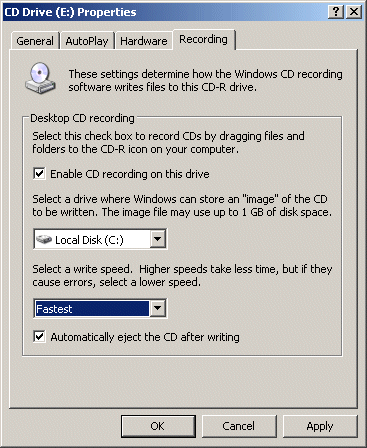 What this function does:

When a blank CD is inserted in the drive, it will be detected and a pre-defined action will be performed.
If 'Select an action to perform' is activated, the currently selected option will be performed automatically the next time a blank disc is inserted.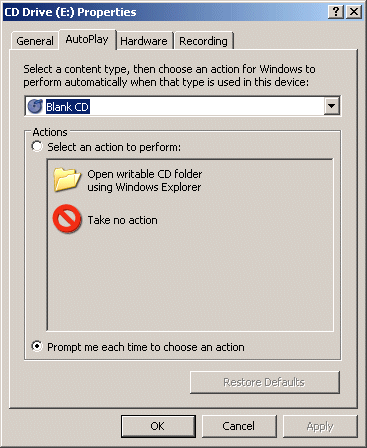 If 'Prompt me each time to choose an action' is activated, every time a blank CD is inserted, the following window will appear: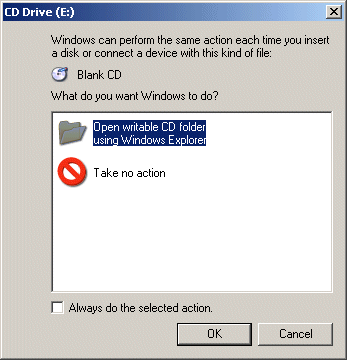 Choosing 'Open writable CD folder using Windows Explorer' opens up the following window:








Drag and drop the files and folders you wish to write to disc into this window.

Which Plextor drive supports this function?

All of Plextor's latest generation recorders support this function.

Make sure the latest firmware is installed:

PX-W2410TA as of firmware v1.02
PX-W1610TA as of firmware v1.04
PX-W1210TA as of firmware v1.09
PX-W1210TS as of firmware v1.04
PX-S88TU as of firmware v1.04