The growth of digital media such as video, audio and pictures is driving the demand for portable storage devices. Plextor has provided the ideal solution: high capacity, fast USB 2.0, highly portable bus powered hard disks, that require no separate power supply.
Ease of use

no software required
small and handy portable storage
stylish aluminum enclosure
5V AC adapter (not included) can be connected if sufficient power cannot be provided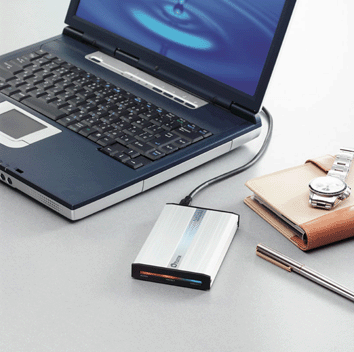 Wite protect switch
A write protect switch is provided to avoid accidental modification or delete of data.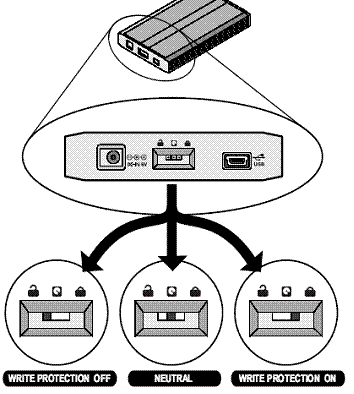 USB bus-powered
The portable hard disk sources its power from the computer through the USB connection.
If the computer cannot provide sufficient power to operate the disk, an AC adapter can be connected.
LED indicators on the front
These indicators provide more information about the disk.
Indicator to show if the drive is connected on a USB 1.1 (green) or 2.0 (blue)
Write-protect indicator
Disc access indicator
Package contents

PX-PH04U
USB cable
Manual
System Requirements and Specifications

Capacity: 40 GB
OS:

Windows XP
Windows 2000 Professional
Windows Me
Windows 98SE

Interface: USB 2.0 / 1.1
Transfer rate:

USB 2.0 Max 480 Mbps
USB 1.1 Max 12 Mbps

Average seek time: 12 ms
Dimensions: 76 (W) x 122.5 (D) x 16.2 (H) mm
Weight: 200 g
Hard Drive

Buffer size: 8 MB
RPM: 5400