Press Release PX-SP08U - PX-SP12U - PX-EH16L
Brussels, 29th of March 2006
Plextor launches shock-proof portable HDDs with silicon skin
-extends hard disk product range: new portable and NAS drive
Plextor today launches its first shock-proof portable hard disk drives created for the rough and tumble of modern life. In 80 and 120GB capacities, the silver lightweight PX-SP08U/PX-SP12U drives are designed to withstand the inevitable knocks and bumps of normal use that can seriously affect more fragile units. They come with a silicon skin to protect the chassis from scratches and a handy carrying pouch.
In addition, Plextor is adding a 160GB capacity drive to its popular professional Network-Attached Storage (NAS) unit. The PX-EH16L has all the useful features of its 250/400GB brothers, but is more affordable for small businesses and professional home users.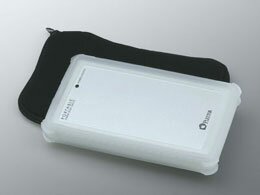 "Our new shock-proof drives are tough. As they are portable, they have to be robust to withstand the knocks of everyday use. The silicon skin protects the unit." comments Rudy de Meirsman, Sales & Marketing Manager of Plextor Europe.
Demand for portable storage is strong and consumers are requiring not just higher capacities, but stylish looks and more practical chassis protection. Plextor's new unit is designed to tick all these boxes. With it's high speed USB2.0 bus-powered connectivity, matt silver chassis and compact size (12.5mm high and 170g weight) it is very desirable. Add in the removable silicon skin, black carrying pouch and password protection (via PlexTools Professional HDD software) it becomes even more practical.
Professional Network HDD - 160GB
Plextor has overcome the problem of small business networks requiring extra storage and back up: a convenient 160GB NAS device that comes equipped with extra features. Importantly, the fan-less drive operates silently for minimum intrusion in an office environment. The noise reduction is achieved by the heat-release aluminum case and the convection cooling design which needs no fan installed.
As well as providing instant shared storage across the network, the PX-EH16L includes: a print server that can share a printer over the network when connected to it via USB; and an automated backup scheduler from the NAS to a USB-connected external HDD of the same capacity. Additionally, the Professional Network HDD is both secure and flexible: it includes a high security feature so that the administrator can limit access to certain folders; and it can be configured as a dedicated FTP server.
Availability and Warranty
The new products will be available from April 2006 from the network of Plextor dealers.
They are covered by Plextor's Fast Warranty Service (2-year warranty in the EU, Norway and Switzerland (Collect & Return); 1 year in other countries). This market-leading service guarantees to have a fully operational drive back to the customer within five working days - free of charge.
Specifications and System Requirements
Model Name
PX-SP08U (80GB) /
PX-SP12U (120GB)
PX-EH16L (160GB)
OS
Windows: XP/2000
Mac: OS/OS X
Win XP, 2000 Professional,
Me, 98SE
Interface
USB 2.0, 1.1
LAN: 100 Base-TX/10 Base-T, RJ45 connector
Transfer Rate
USB 2.0 Max 480 Mbps,
USB 1.1 Max 11 Mbps
Max 100 Mbps / Max 10 Mbps
RPM
5400
7200
Extra
- 8 MB Buffer
- Bus powered
- Average Seek time: 12ms
- Shared storage
- Print server
- FTP server (Max 94.5 Mbps: high Speed!)
- Backup scheduler to USB hard disk
- Security and access control features
- Silent Operation
- 8 MB Buffer
- Capacity expansion to connect USB HDD
- Average seek time: 8.2ms
For more information or photo material contact:
Inge Spoelders (International Marketing Responsible Plextor - on +32 2 725 55 22)
This press release is also available on the Plextor website at
https://plextor-europe.com/press/all/releases.asp?choice=Releases
High resolution photographs can also be seen at
https://plextor-europe.com/press/all/pictures.asp?choice=Pictures

About Plextor
Plextor is a leading international manufacturer of extremely reliable, high quality recording equipment and is also one of the pioneers in the field of CD technology. From its parent company, Shinano Kenshi Co. Japan, Plextor has a built up tradition in the development and manufacture of advanced hardware and electronic precision equipment going back to 1918. With head offices in Japan, Europe and the United States the company mainly sells its products through a network of specialised computer dealers. Plextor Europe, established in Brussels, takes responsibility for sales, marketing and technical support in Europe, the Middle East and Africa. Since opening its Brussels office in 1994, Plextor has introduced a number of award winning products, including CD/DVD-ROM drives, CD/DVD recordable drives, CD/DVD media and USB Flash Memory Drives (PlexFlash). In addition to optical storage, flash memory and, more recently, digital video converters, Plextor is now offering portable hard disks for any user requiring extra mobile storage and a professional network hard disk for small businesses.